Danuel Wigington
January 7 1980-March 19,1996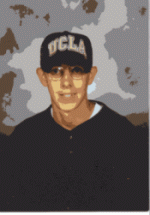 Danny was born on January 7, 1980 the only child of Bill and Cathy Wigington.
He was the life of his parents and also loved life himself. He was always a very happy person and had a smile for everyone around him.
He loved taking pictures with his fisher Price camera and placed in 1st and 2nd places two years in a row. When he was in 5th grade his parents realized that he had a knack for writing and since his death have found many of his fantastic writings. He had a love for acting but wasn't too found of the makeup.
He was very sports minded with any kind of sports that he could get his hands on. Bowling basketball football track soccer and pool were among his favorites.
Danny made many friends and we always tried to install into him that there should never be prejudice no matter what the color of skin a person has or how they look. He learned the important part of people is what is inside and how you treat each other.
He had many dreams of becoming a pro basketball player or even soccer player or maybe going to college to become a lawyer to help people whom didn't have any money and needed help.
Upon starting the Danuel Wigington Soccer scholarships for Gate City Youth Soccer players all over the area the scholarships we give out to players that need help can maybe help somebody reach the goal he wanted.
The main thing we learned with Danny and together is that never be afraid to show the love you feel for each other and take the time out to be with each other. We always said that there is plenty of time to do the things that we want later but you never know when you could lose somebody that you love very much.
He also achieved his walk of fame star- a star in heaven!
back